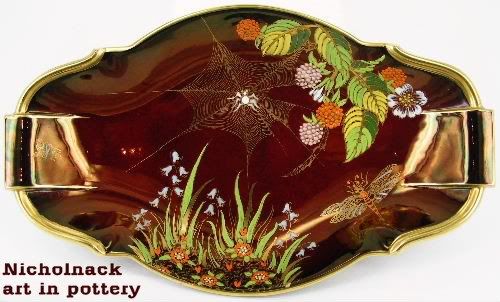 Presented for your consideration is a Carlton Ware Spiders Web (pattern 4366) Art Deco tray (shape 2003/1). The hand painted Spiders Web Motif has been done on the very rich, sought after Rouge Royale back ground.

This is one of my favourites of the hand-painted patterns. I just love the fat old spider hanging in his web just waiting to trap the butterfly or the bee that are feeding on the bluebells, just delightful.

It has the script style Carlton Ware maker's mark that was introduced in 1925. Impressed into the underside is the shape number 2003/1; this is the largest of the three sizes that this tray come in. It has the Rouge Royale makers mark of the style that was in use from circa 1951 until 1961.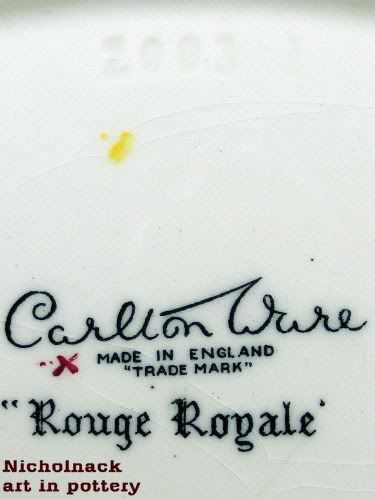 For absolutely stacks of information regarding Carlton Ware and Wiltshaw & Robinson production be sure to visit the Carlton Ware Fact file attached to my Nicholnack art in pottery web site which has countless photos of different shapes and patterns.
This large and prestigious tray measures in at 31 cm (12.25") across including the handle, and it is 18 cm (7.25") wide.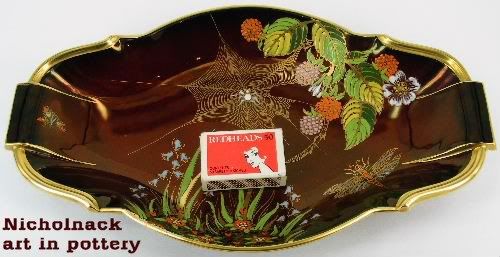 It is in EXCELLENT condition; there are no chips, cracks, stains and no repairs. The gilding is new condition and there is NO wear to the hand applied enamel paint. It does exhibit two craze lines on the white of the base only. There is one very tiny white spot on the rouge ground, this spot is the sice of a pin head (see close up photo below with a match head as a size comparison.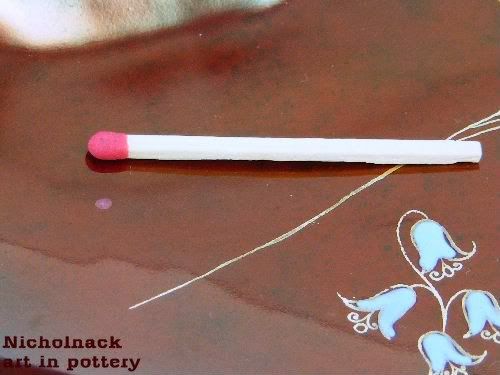 I just love Carlton Ware's hand painted pieces, while Spider's Webb is one of the more common it is also one of the best and set on this is on the bright Rouge Royale ground and you really have something very striking.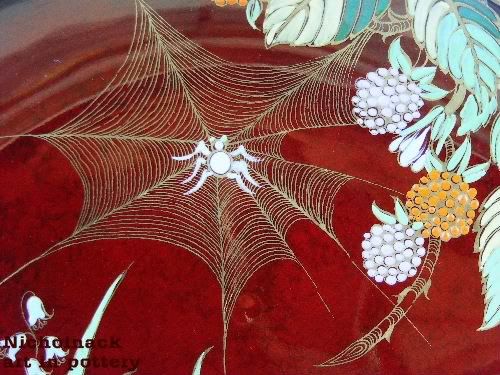 For Contact with Bruce of Nicholnack
Phone (03) 9332 3883 or 0422 751 721
For email contact use link in the banner below